Flowers with Wings
A Collection of Butterfly Photos
Pages: 28
Format: Ebook [Kindle Edition]
I had the opportunity to review Flowers with Wings from Nightfire Publications which is a really neat compilation of butterfly pictures with Psalms, poems and quotes. The REALLY NEAT thing is that each picture has the actual name of the butterfly listed! My ds15 LOVES butterflies so we can even use this as a homeschooling tool. BONUS!
These photos are absolutely breathtaking! And the verbiage underneath is inspiring. I really enjoyed this ebook!

Here is a sample page…it just happens to be one my son said he would love to catch – he really enjoys looking at the pictures!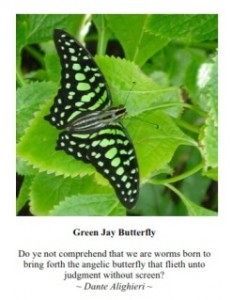 It says, "Do ye not comprehend that we are worms born to bring forth the angelic butterly that flieth unto judgement without screen? ~ Dante Alighieri ~
Have a wonderfully blessed day!
Link to the original review – Dawn received a copy of this book to review.